2023 Pool Trends for Ultimate Summer Fun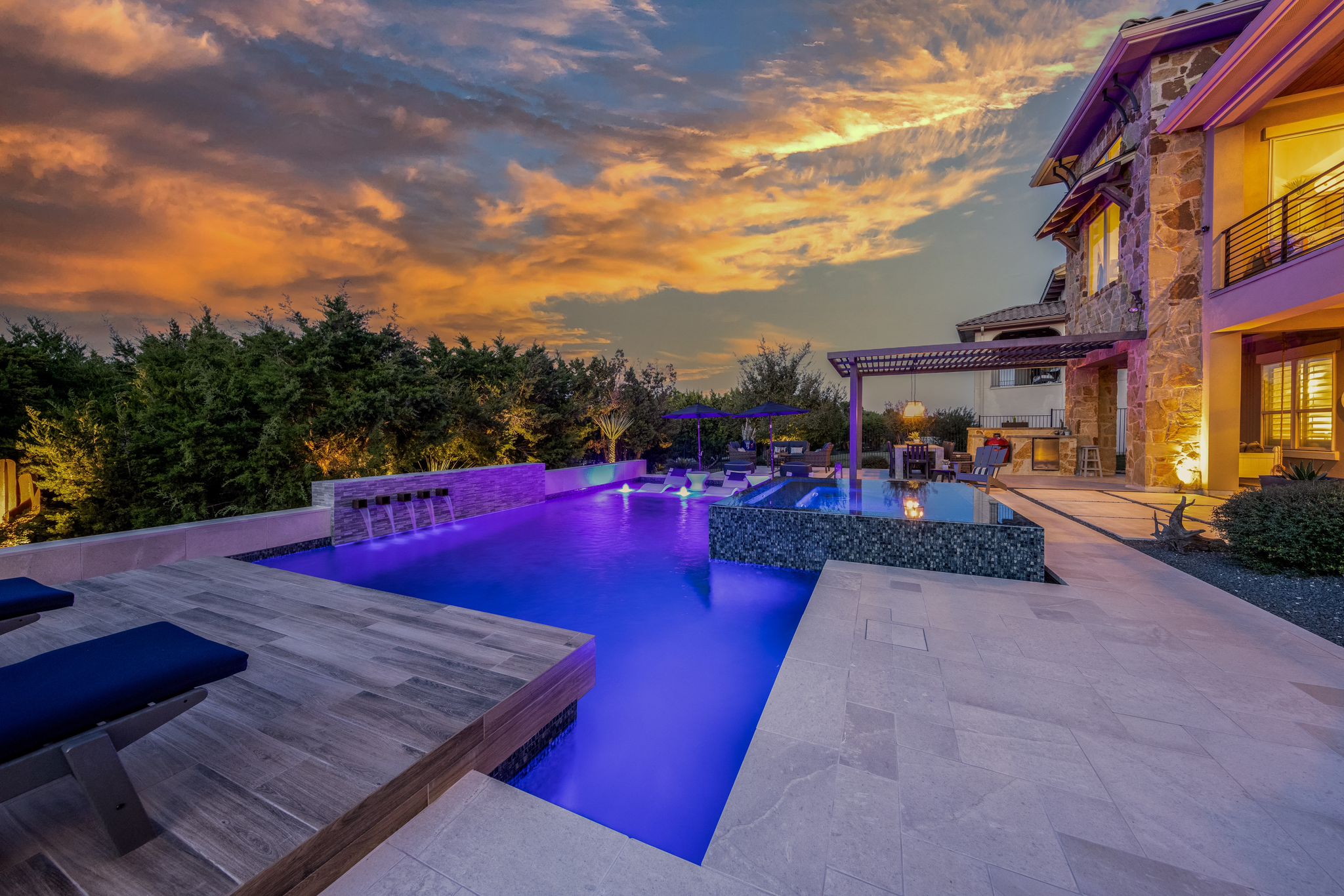 Summertime is here, which means pool time is here! Pools may never go out of fashion, but pool trends can come and go. Some of the classics are so good they're here to stay, but with a few modern updates. And as technology advances and innovative designs become more mainstream, new pool trends have emerged. Let's take a look at some of the top 2023 pool trends to inspire your creativity and design the ultimate summer fun in the sun!
LED Lights
Pool lights make it possible for a late-night swim, extending the pool's use time (and the fun time, too). Upgrade to color-changing LED lights controlled by Bluetooth to save on the energy bill and change the ambiance at any time. Stick with your favorite color, set them to match the outdoor decor, or change them to match your mood – the options are endless!
Water Features
Water features have always been popular, but they're having a major moment right now. Go with a classic waterfall, a gentle spillover ledge, or a bubbling fountain to jump on this pool trend. Not only do they look good, but they also create ambient background noise for your swim. There's nothing like the sounds of running water to help you relax while floating around.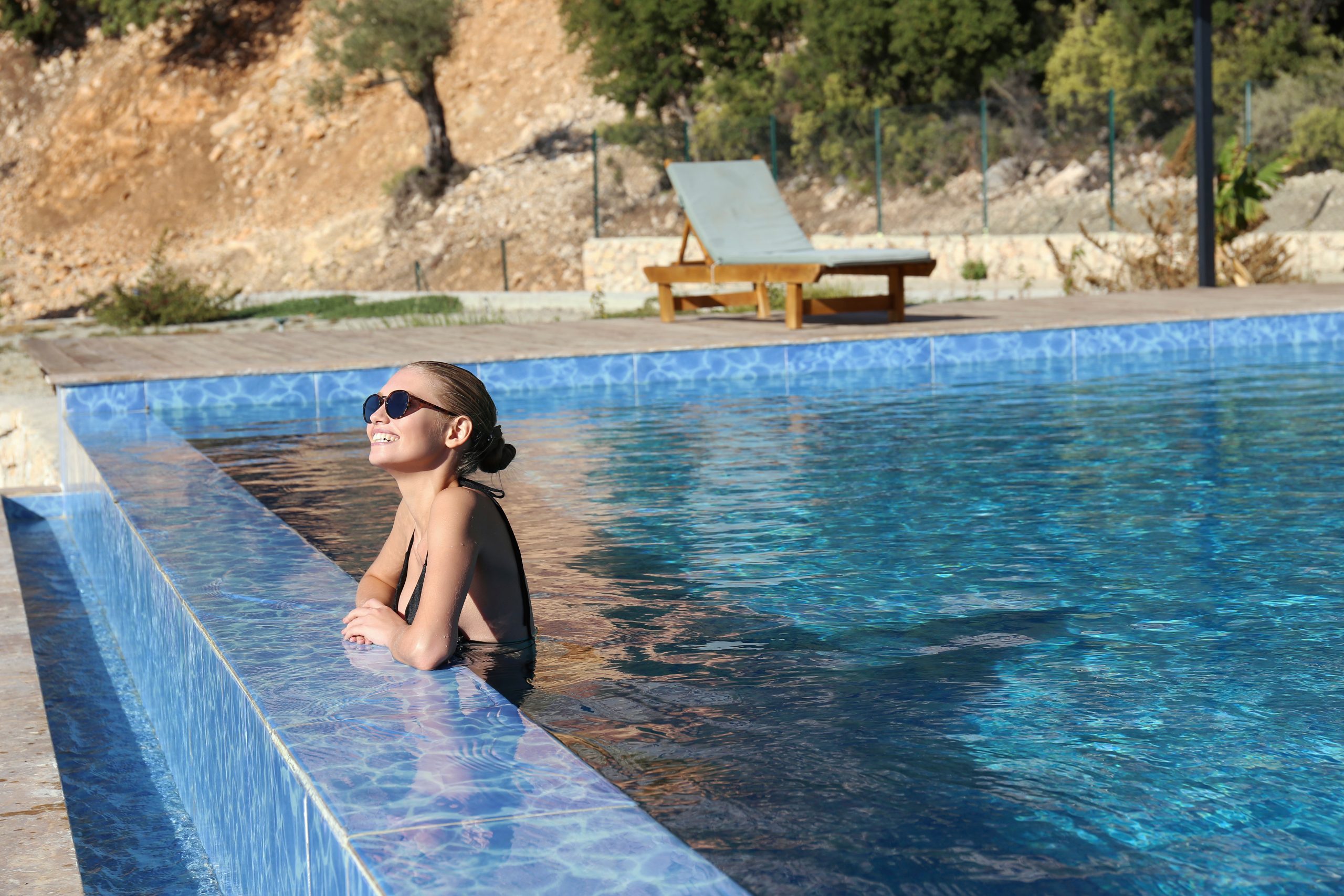 Infinity x Infinity
Infinity pools have long been a sign of luxury, popular with rooftop hotels and vacation homes. The new trend is to have infinity ledges on multiple sides so that it spills over to a lower-level pool. If you don't have room for a "second" pool, add a narrow moat at the bottom to get a similar effect for less.
Swim Jets
Make a small pool feel like an Olympic-sized pool by installing a swim jet system. The jets push a constant flow of water across the pool, adding resistance and creating a treadmill-like effect. It's a great way to swim "endless" laps for exercise and to work on building up endurance.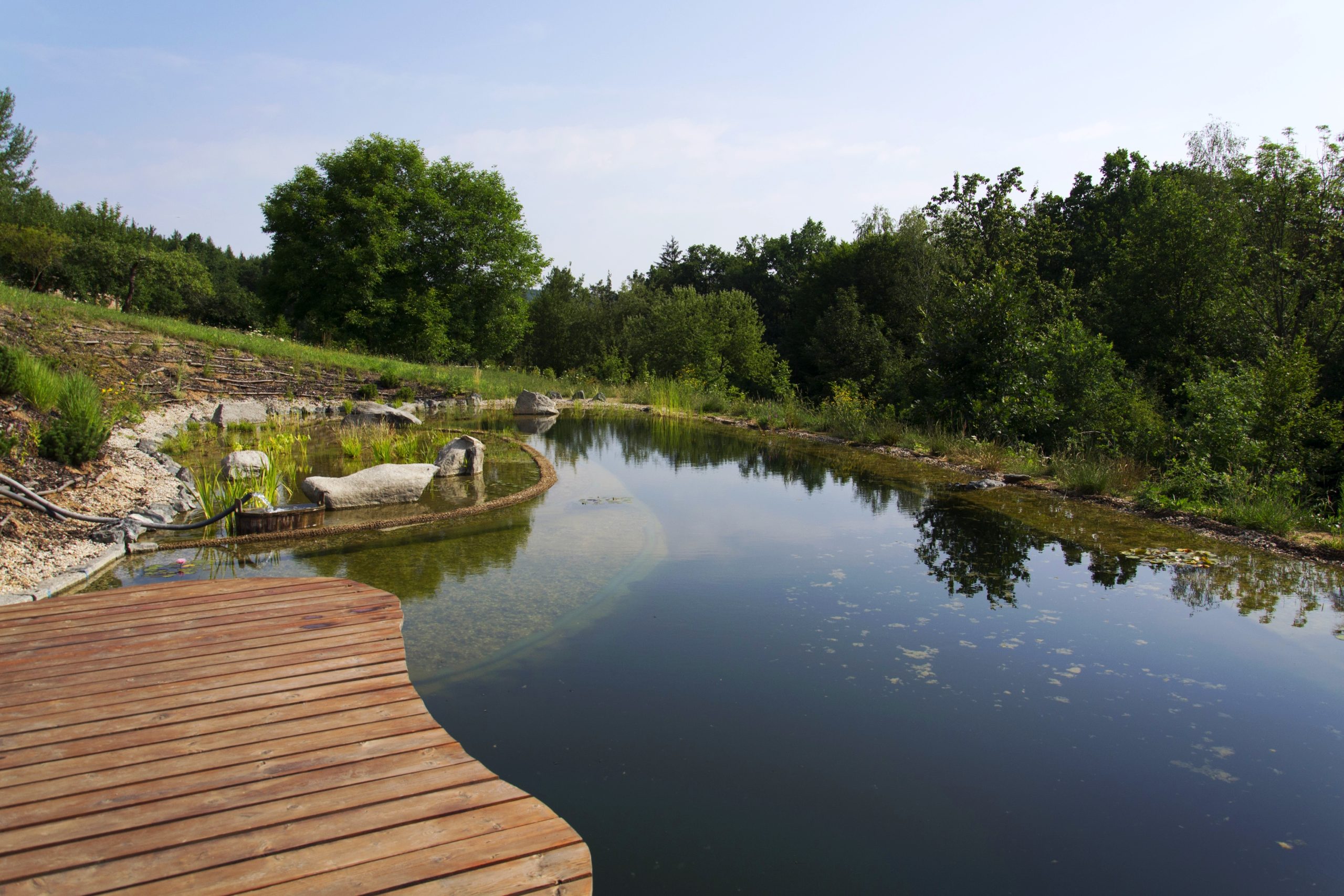 Saltwater & Natural Pools
Not everyone likes the process of maintaining or swimming in chlorine-based pools. Thankfully, saltwater pools and natural pools are on the rise! Saltwater requires fewer chemicals and is less harsh on skin, hair, and swimsuits. Natural pools use zero chemicals, rely on filtration and plant life, and look more like a pond. You may even have some wildlife guests!
Fire & Water
Mix two opposing elements by adding fire features around the pool. The flickering flames create a stunning reflection in pool water and add to the ambient lighting. Achieve this effect with tiki torches, flame bowls, fire walls, or pool-side fire pits. They'll look good, provide extra warmth on a cool night, and will melt s'mores for a midnight snack.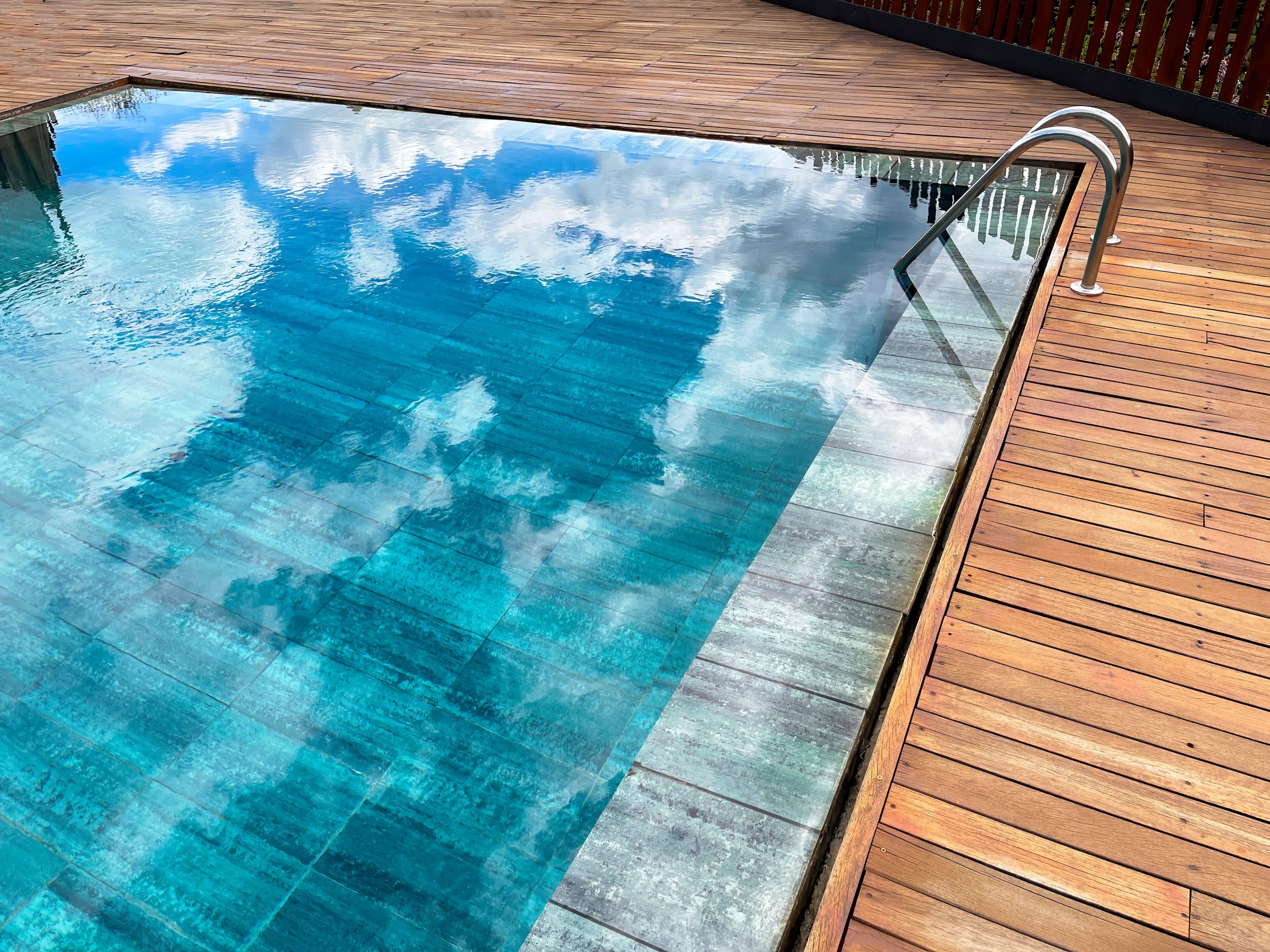 Rimless Pool
If you don't have room for an infinity pool, you may like the look of a "rimless" pool instead. Design the water level to be even with the surrounding structure for a seamless pool edge effect. The key here is monitoring overflow and choosing a material that provides traction for safely walking around the pool.
Patterned Tiles
Patterned tiles have made a comeback! And there are even more options available now to satisfy unique tastes. Keep it subtle with a sleek, hotel-style design or be bold and give the illusion of a sandy bottom and a coral reef. Get creative and show off your personal style!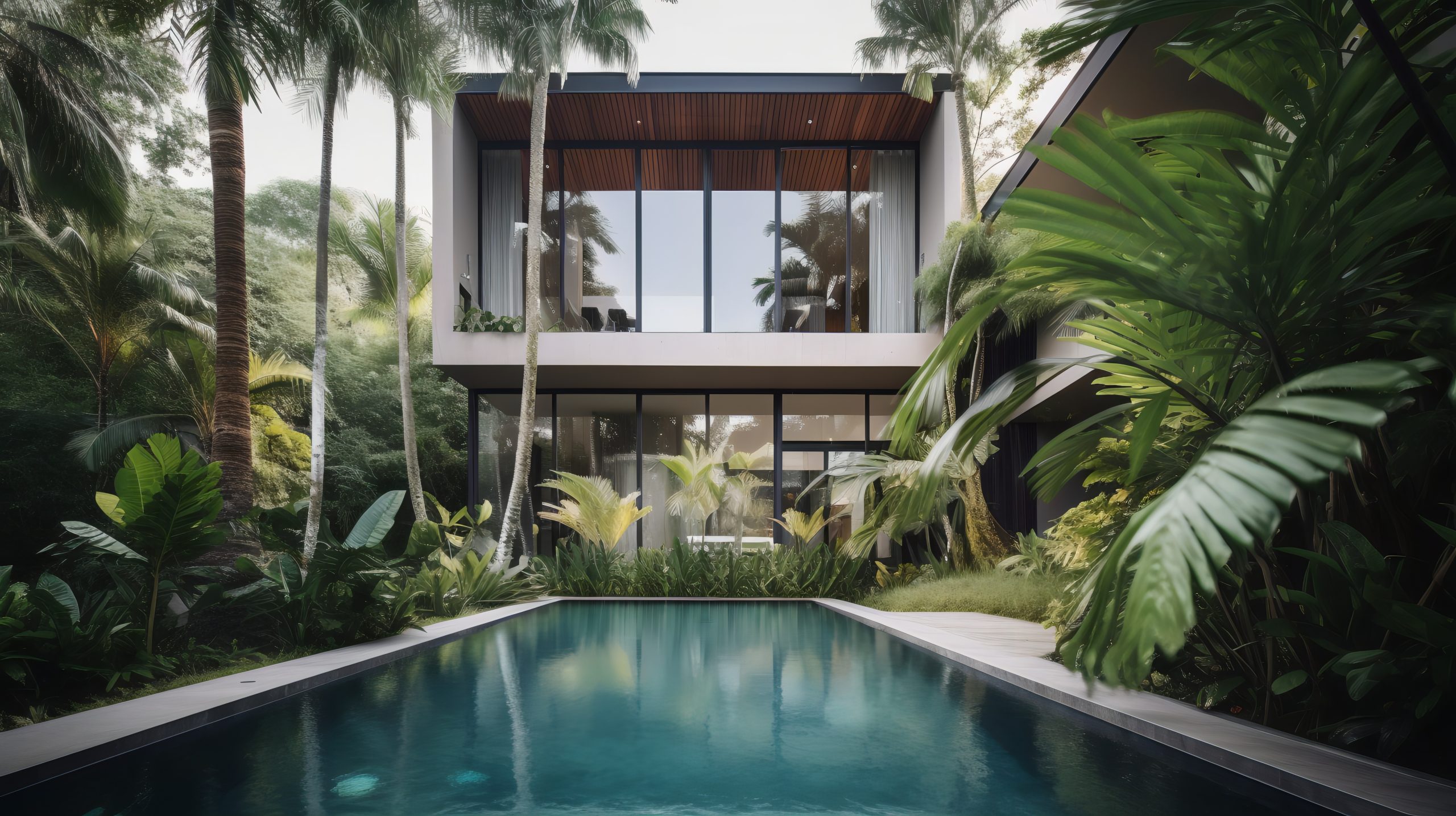 Hidden Paradise
Incorporate lush landscaping around the pool for your own hidden paradise. Shrubs, hedges, and tall ornamental grasses will create privacy (and shade) while bringing in the fresh scents of nature. If you're a fan of butterflies, mix in some pollinator plants to attract the local wildlife into your yard.
Pool Automation
Smart home technology isn't just for inside the home – it includes the pool, too. Automate the pool heater, water pump, surface skimmer, and water chemistry controllers for a more hands-off experience. You'll still need to check the pool frequently and have it professionally maintained, too. Smart tech only goes so far!
Which of these 2023 pool trends is your favorite? Let us know in the comments! If you aren't sure which one is right for you, then check out Square Foot Productions' virtual remodeling services. We'll digitally add a pool or transform your existing one into your dream design so you can visualize its full potential before ever breaking ground in your backyard. Reach out today and find out what paradise looks like!