12 Real Estate Blog Ideas to Grow Your Online Presence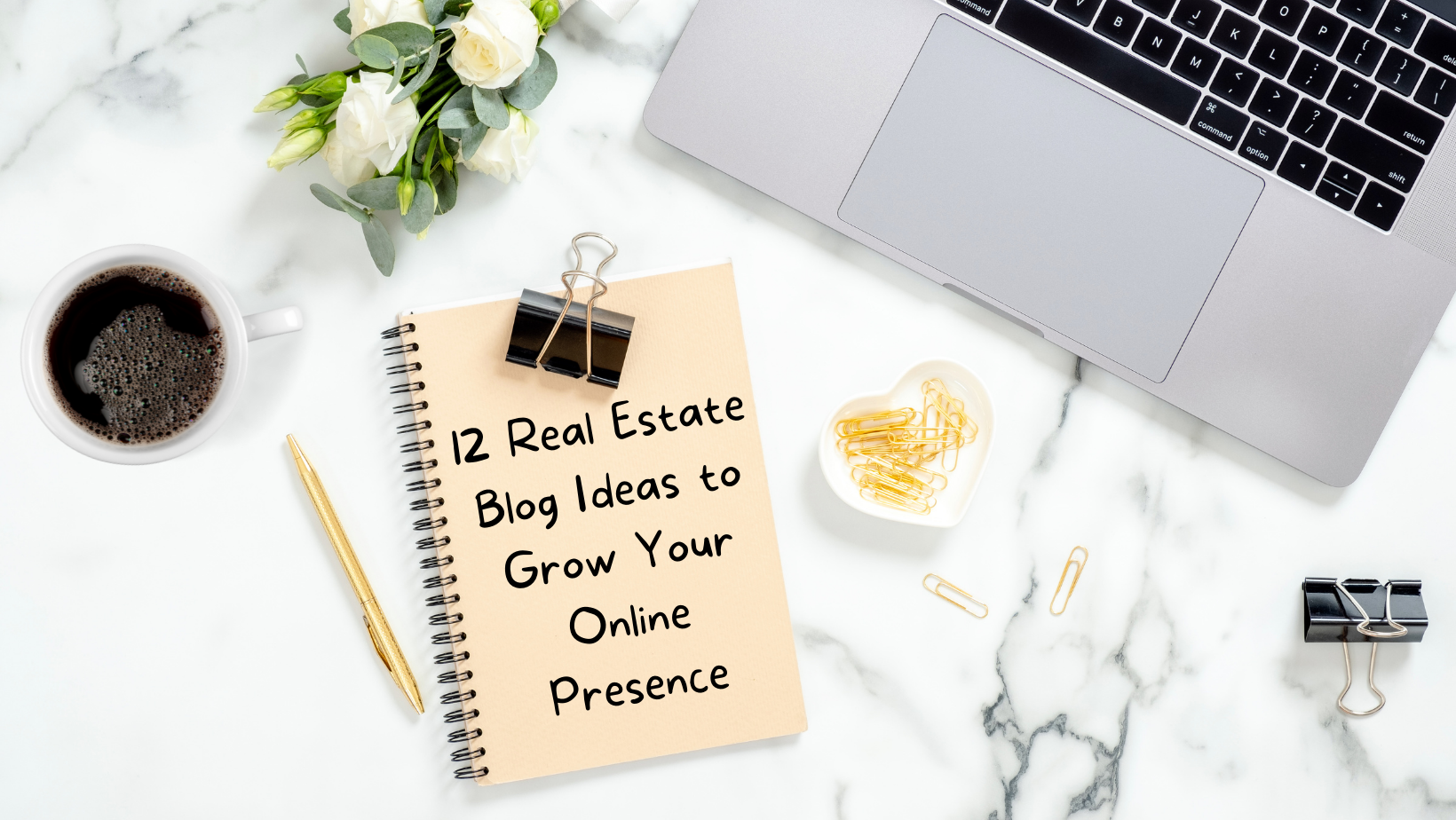 It seems like everyone has a blog these days, and there's a good reason for that! Actually, there are several reasons. Posting original content, such as blogs, on your website will allow you to connect more with your audience, increase your visibility and position in online search rankings, and boost your credibility as a reliable resource for real estate needs. It's a great way to organically grow your business and build partnerships with other industry services. Writing a blog and staying consistent may seem overwhelming, but it doesn't have to be. Start with monthly blogs and add more if and when you can; we've even put together 12 real estate blog ideas you can use!
#1: How to Prepare Your Home for Sale
Let homeowners know your top tips for getting their home ready to put on the market. Include reviews and links for local services that can help, such as staging (including virtual staging) and photography vendors.
#2: Why You Should Work with a Real Estate Agent
Talk about the benefits of working with a real estate agent, whether someone is looking to buy, sell, or rent property. Use this opportunity to talk about your unique value proposition, and what someone can expect when they choose to work with you.
#3: The Who's Who of Real Estate
Provide an overview of the different roles involved in the sale of a property, from lenders and title agents to inspectors, appraisers, and other supporting roles.
#4: New Construction – Whose Home Is It Anyway?
Let your audience know how new construction contracts work, the risks to avoid, and tips for finding the right loan and making it to closing. Remind them that it's best to work with an agent because the salesperson works for the builder, not the buyer!
#5: Why Professional Staging & Photography Will Help Sell Your Home
Discuss the benefits of getting professional staging and photography done before placing a home on the market. Interview local vendors for insider tips, and to stress the importance of these services with their own experiences.
#6: Who's Your Lender? What to Look For in a Mortgage
Talk about the types of mortgages, such as Conventional, FHA, VA, Fannie Mae, and Freddie Mac, and briefly discuss the qualifications for each. Be sure to disclose you are not a financial advisor and include links for your audience to find more information.
#7: What Not to Do When Buying a Home
Let homebuyers know what to avoid when under contract for a home, such as making large purchases or opening new lines of credit. Create and share a fun infographic to help illustrate!
#8: Weekly or Monthly Local Market Data
Collect market data for your service area and share it with your audience on a consistent basis, such as weekly or monthly. They'll know to come to you whenever they want their market updates!
#9: Are You Ready to Stop Renting & Start Buying?
Present the argument for buying over renting by first listing a series of questions to gauge your audience's buyer-readiness. If they answer yes to all of them, let them know how to contact you to start their home search.
#10: Pay Your Mortgage with a Rental Property
Talk about the benefits of investing in one or more rental properties, including paying off a mortgage and producing passive income. Create an infographic to help illustrate the potential return on investment.
#11: From Offer to Close – How to Buy a Property
Break down the homebuying process step by step, starting with an offer to purchase and ending with closing day. Talk about your role in each step, highlighting how you make the process as stress-free as possible for your clients.
#12: 10 Free & Local Activities To Do This Weekend
Pick ten activities in your city that are free to do and give a brief description of each, including links to more info. This could be made into a recurring monthly blog, which might even get featured on local news sites.
So, if you start off posting monthly, we've just provided you with a whole year's worth of blog posts! Take some time to read up on maximizing search engine optimization (SEO) through your blogs and research relevant keywords for each topic – we actually wrote about this here. Other successful blog strategies include using meta tags, alt text tags on images, and sharing original infographics. Partnering with other, industry-related, blogs will also boost your reach through the use of backlinks and guest posts. Think about these opportunities while networking to build stronger relationships; it's a win-win for all involved, including your clients! Don't forget to set time aside in advance to come up with more real estate blog ideas when you finish these. And don't let the daily bloggers get you down; the most important thing is to be consistent – only post as much as you have the time to produce quality content.