5 Trendy Instagram Highlight Ideas for Real Estate Agents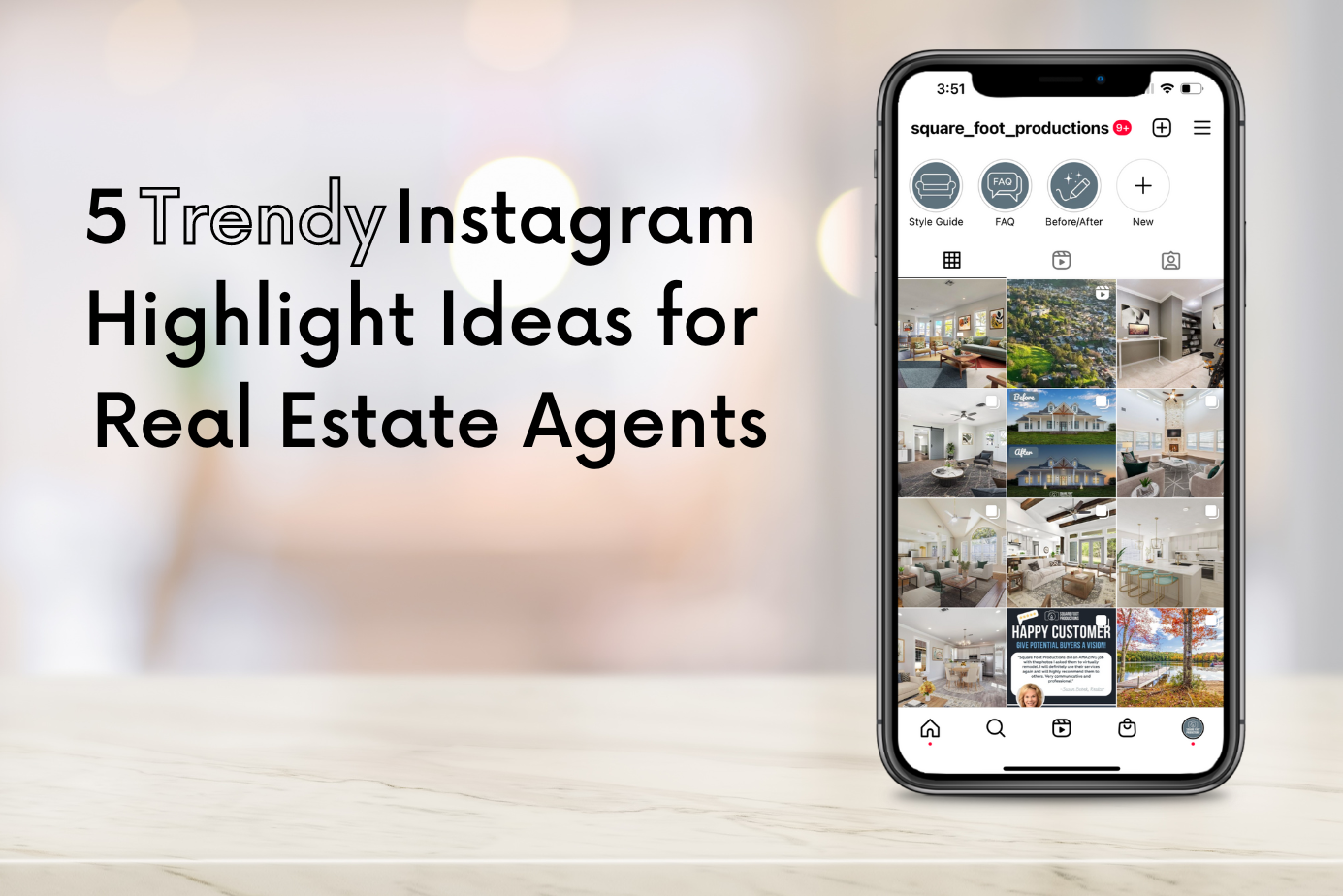 Are you amplifying your lead generation by keeping up with the trends on social media? Instagram Highlights have become a popular fixture in the online marketing strategies of successful brands. They're fun ways to connect with your audience while quickly sharing what your business is all about. Real estate agents need to be able to follow the trends and creatively adapt them to their own marketing strategies. We'll give you a head start with the 101 on Highlights, followed by some Instagram Highlight ideas that are performing well right now.
What Are Instagram Highlights?
Instagram Highlights are Stories permanently saved on your profile instead of disappearing after 24 hours. They can be organized into "folders" by content topics, such as brand intros, market updates, tutorials, and testimonials. Highlights will appear in a single row below your bio and above your grid. It's the best place to curate everything anyone should know about your business in one, easy-to-find spot. Newcomers can learn about you quickly and loyal followers will always know where to find their favorite content.
Instagram Highlight Ideas for Real Estate Agents
#1: Market Updates
Start a Highlights series dedicated to market updates and post new data at least once a week. If your followers miss your scheduled story, they'll always know where to look for the most recent update. This also makes it easy to show how the market changes over time. Screen record your Market Update Highlights at the end of each month for an already-branded overview of the month's activity.
#2: Behind the Scenes
A real estate agent's day is never the same! Show what it's like behind the scenes (BTS) – an ongoing look at what you've been doing and where you've been. BTS videos have been trending successfully since before social media (think documentaries) and remain excellent ways for brands to connect authentically with their audiences. Inviting your followers to peek behind the curtain inspires trust in you and your services.
#3: Open Houses
Take photos and videos when you attend open houses and share them as Highlights with your followers. Not only does it show them what's available on the market, but it also shows them you're out there doing the work. Include a few basic facts about the property along with your contact info for more details. If it's your open house, post several reminders leading up to the event and invite everyone to stop by!
#4: Interactive Polls
Who doesn't love a good poll? It's fun to do as a consumer and it can provide valuable data to the poll-giver. The most popular style is "this or that," but other effective styles include multiple-choice, star rating, and open-ended questions. Ask your followers what their preferred style of architecture or interior design is, or their favorite thing to do in the area. What do they look for in a real estate agent?
#5: Client Testimonials
Client testimonials are the most valuable content for any brand. Consumers trust peer reviews and referrals, especially when it comes to big financial decisions like buying or selling real estate. Create eye-catching graphics and gifs using past client testimonials (try a mix of photos and videos for some variety). User-generated content is considered to have the highest value and boosts your credibility, so re-share it whenever you can.
Consistency is key with these Instagram Highlight ideas, especially if you want your followers to keep coming back for more. Pick a few content topics to start and add more as your business and your confidence grows. Keep up with the trends by following top creators and marketing experts on social media. Follow @mosseri for updates on new features and creator tools directly from the head of Instagram. And check out the upcoming Instagram Reels trends here for more ways to lead generate on social media!
Square Foot Productions can transform your existing images into exceptional marketing photos that capture the attention of your target audience. Reach out today to discuss which service(s) is best for you!